Innovation Academy 2022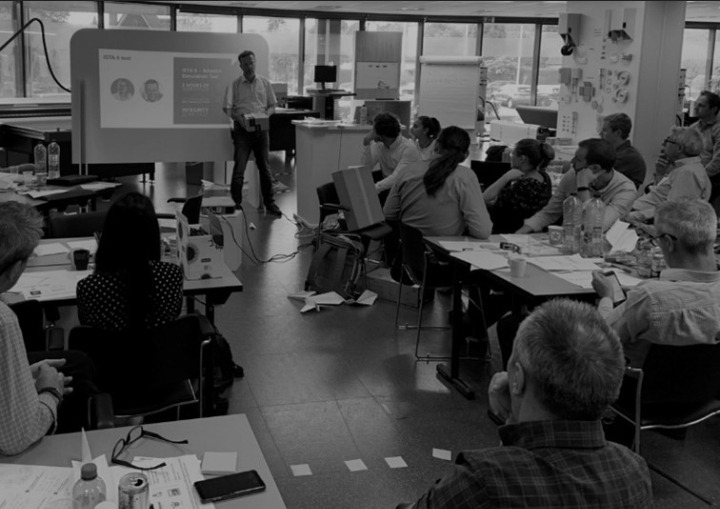 Let's co-design with our European Pilots during our next Innovation Academies!
Who are the pilots and what is their mission?
The pilots are a team of innovation's representatives of each alliance's member (see below for more detailed information).
They define themselves as:
"We are a bunch of pragmatic and entrepreneurial colleagues on a mission to discover sustainable, corrugated based packaging solutions that will bring value to our most respected global customers."
For them, identifying the precise issue to be solved and co-design tomorrow's solution is one of the best ways to serve our customers.
How do they do it? By offering exclusive working sessions together with clients and cross-functional profiles (marketing, R&D, designer, production manager) and one of the partners of the European innovation eco-system.
Based a design thinking method facilitated by Board Of Innovation with Michiel Mol and Robin Vermeulen, the objective is to quickly prototype and to accelerate projects that are already identified or that will be soon in the pipeline.
In November 2022, the Innovation Academy was hosted at H.B. Fuller's location in close partnership with Elizabeth Staab and Martin Riswick.
Even with the COVID situation, it was decided to maintain the session, on a hybrid version that was really appreciated by our clients:

"Even if this was done remotely, this was interactive,
really appreciate their enthusiasm to work on the topic"
European Packaging Engineer
With an average success rate of 8.34/10, the Innovation Pilots have decided to continue this very valuable and customer-centric event and to set-up four Innovation Academies for 2022. Please save the dates!
March 2022 (date to be confirmed) – topic: how to design alternative to single use plastic in the beverage industry? – France – already full
5th to 7th April 2022 – topic: how to tackle e-commerce supply chain impacts? – location to be defined
13th to 15th September 2022 – topic: how to identify paper-based options for your business? – location to be defined
15th to 17th November 2022 – topic: how can we imagine the future of e-commerce? – location to be defined
Do you want to know more about the program and the topic? Please have a look at the document!
Do you want to have an entire team dedicated to your issue? Please contact us!
Origin of the European Pilots team
Since January 2021, our Chief Innovation Officer, Daphne Deledicq decided to create a dedicated team in order to answer global customers' requests and to work together on key strategic packaging topics, sustainability and e-commerce .
This team gathers packaging design experts from the alliance with complementary profiles:
Most of them were already the ones trained in 2019 for FFP certification
#Ecommerce / #Sustainability
Ask for quote
Please contact us to receive more information or a quotation for your business. We'll give you a feedback as soos as possible.