Sustainable packaging – ECOGRIP the corrugated alternative to plastic shrink wrap

Sustainable packaging – a major concern
Research has shown retailers and consumers are now demanding more sustainable packaging solutions when they make purchase decisions.
Moreover, the EU's single-use plastic (SUP) Directive, which came into force on 3rd July 2019, aims to reduce the impact of certain plastic products on the environment.
This has caused large brands and manufacturers to re-evaluate their packaging strategies and seek out sustainable alternatives.
ECOGRIP eliminates the need for single-use plastic 'shrink wrap' when carrying multiple bottles. The 100% biodegradable packaging that can be adapted to fit any type of bottle on the market.
Cart-One brings real customer value. As part of a Pan-European Alliance, Blue Box Partners, our team offers expertise and collective intelligence, delivering local solutions to global problems.
Our experience in different countries across Europe makes us perfectly placed to give customers broader perspectives. We want to work with brands to develop packaging solutions that not only solve their current issues around single-use plastic – but also provide environmentally-friendly, sustainable packaging solutions for many years to come.
Finding an alternative to single-use plastic
Consumers, regulators and retailers are all demanding an end to single-use plastic, and advocating for sustainable packaging alternatives:
END-CONSUMER AND BRAND OWNERS: People want to get engaged and contribute to the change by choosing biodegradable packaging (Source: Open Innovation Manager -FMCG)
REGULATION: From 1st January 2021, there will be a new 'Plastic Tax' of EUR 0.80 per kilogram of non-recycled plastic packaging waste
RETAIL: Retailers are starting reject articles with single-use plastic packaging from their stores (Source: Packaging Engineer – FMCG)
While industry continues to improve recycling rates for plastic bottles and containers, most secondary packaging such as shrink-wrap falls into the category of single-use plastic.
Shrink wrap may be efficient to produce, lightweight and convenient, but it has a catastrophic effect on the environment when it is not recycled. Each year, hundreds of millions of tons of SUP are produced and end up in our oceans and landfill.
This has resulted in considerable pressure from governments, environmental groups and consumers – all of whom are demanding solutions around biodegradable packaging which is more sustainable.
Paper-based packaging is attractive to consumers (and retailers), but it impacts in the supply chain in a number of ways. Any viable alternative to single-use plastic needs to be easy to transport, easy to handle and easy to store. But it also needs to be adaptable. With so many different bottles on the market, any paper-based solution has to be simple and scalable to meet demand.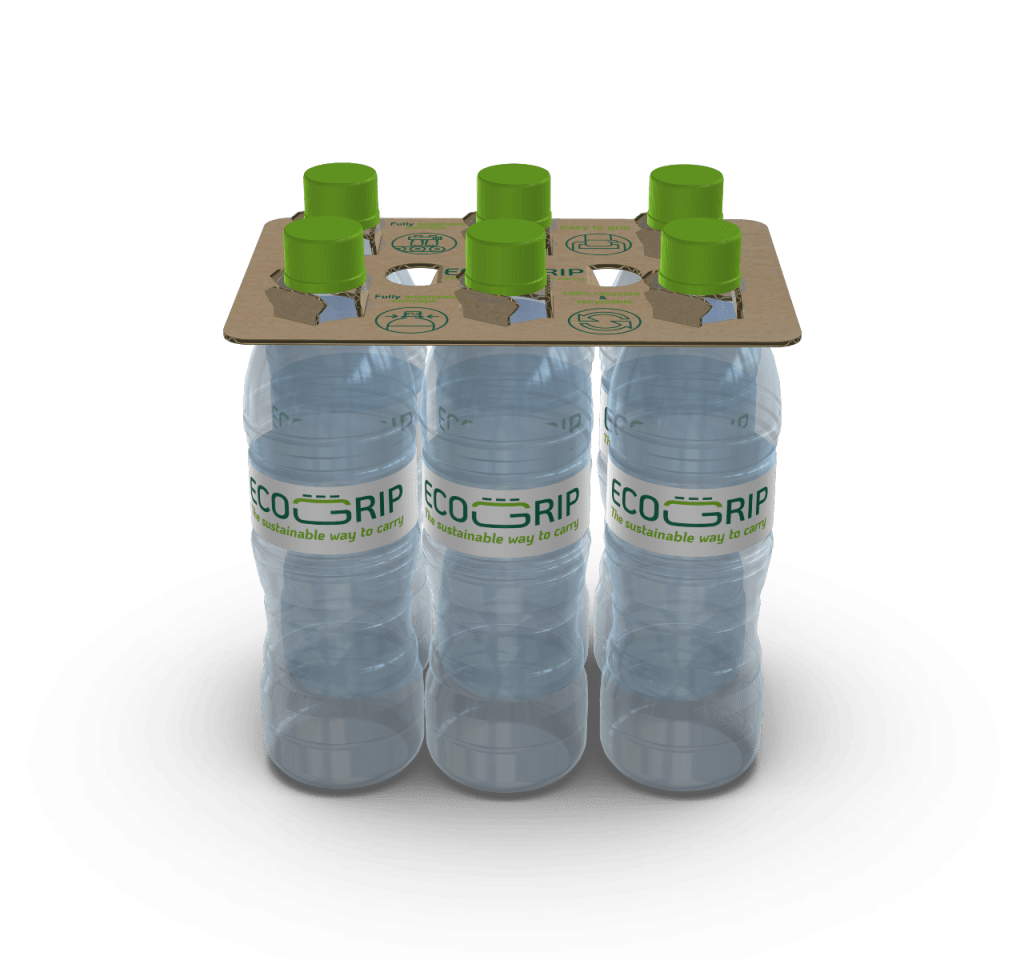 Sustainable Packaging – ECOGRIP – Key Features
Cart-One within the Blue Box Partners' development team carried out extensive customer-focused workshops and in-situ trials and testing to ensure performance.
We harnessed knowledge and experience from all our partners to produce a biodegradable packaging solution that meets the needs of brands all over Europe.
ECOGRIP is designed to be flexible and practical. It doesn't matter what style of bottle or cap is involved, or how many bottles need to be accommodated. ECOGRIP will be compatible. Our core message to customers is around adaptability, ease-of use and biodegradability.
Main features:
Fully adaptable concept designed to fit any bottle neck or cap regardless of diameter
Solutions available for single-use plastic packs of 4, 6 or 8 bottles between 0.33 and 1.5 litres
Both manual or mechanized possibilities to ensure automation and bar-code hiding (thanks to our partnership with of one of the biggest machine builders.
Ergonomic design making it easy to handle
Customizable with any kind of printing technology
Registered under a European i-DEPOT
Single-use plastic alternative – ECOGRIP – Benefits
ECOGRIP is an adaptable and sustainable packaging concept. Easy to produce at scale, it also provides several compelling benefits:
Sales incentive through attractive and innovative design
Easy to grip, easy to store, easy to unclip individual bottles and easy to dismantle
100% recycled and recyclable
Fully biodegradable packaging
Experienced team of European experts happy to work alongside customers to provide extra support
Sustainable packaging – Short term fix, long term solution
With ECOGRIP, Cart-One is looking to build long-term relationships with customers, brands and manufacturers. Our mission is to provide viable alternative to single-use plastic within future supply chains.
ECOGRIP is truly a biodegradable packaging technology for modern times: A robust, simple, sustainable product ready for application at speed and scale.
We want a world where retailers and consumers can be confident that the purchases they make are packaged responsibly, not just today, but always.
Do you have similar issue to solve? Please contact
Matteo Arisi (Cart-One Parma):  matteo.arisi@blueboxpartners.eu
Fiorentino Pirone (Cart-One Salerno): fiorentino.pirone@sadaspa.it
Ask for quote
Please contact us to receive more information or a quotation for your business. We'll give you a feedback as soos as possible.